Yesterday,  a huge number of Americans took to the polls for the Midterm Elections. The lines were long and in many cases the machines were down, or not working correctly. Add to the scenario the emotional weight of the event, and you've certainly created the perfect storm for an anxiety attack. And yet, we still showed up. We defied voter suppression and all kinds of insane obstacles to be heard. In a few cases, the outcomes weren't great, but in many we saw change take hold.
As I kept track of the results throughout the evening my mind kept going back to a name: Shirley Chisholm. I learned about this remarkable woman at a fairly young age, but the gravity of her story didn't hit me until I was an adult. Shirley Chisholm was a barrier smasher, a truth-speaker, a force of righteous forward movement that should inspire us all to stand up to insurmountable odds. In short? Shirley was a badass.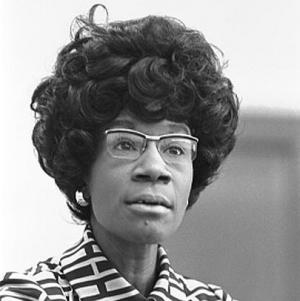 Born in 1924 to immigrant parents in Brooklyn, New York, Shirley quickly grew into a bright and talented young woman. She competed on her college debate team and graduated cum laude from Brooklyn College in 1946. In 1951 she earned her master's degree  in early childhood education from Columbia University. Shirley then became active in the NAACP, the Urban League, the League of Women Voters, and the Democratic Party. She joined the State Legislature in 1964, then became the first Black woman in Congress in 1968. She was a fierce politician who fought for gender and racial equality, opposed and sought to end the Vietnam War, and co-founded the National Women's Political Caucus in 1971.  Shirley became the first Black woman and second woman to serve on the House Rules Committee.
In 1972 Shirley Chisholm did what no one thought possible for a Black woman: she decided to run for the Democratic nomination for president. Using the motto "Unbossed and Unbought", Shirley was determined to be a voice for the ever-marginalized. She didn't get the nomination, due to rampant racism and misogyny, but Shirley remained a fighter until her retirement from Congress in 1983.
I'm forever inspired by Shirley, because she refused to be pushed aside. She didn't win the big battle in the end, but she used her voice and her will to triumph in as many skirmishes as possible. As I wrestle with the concepts of success and defeat, I find solace in the story of Shirley. She soldiered on when it might have been wise to sit back. She demanded her due in a world that would rather see her starved out. I remember her in the little skirmishes of my own path, when the end floats undefined on the horizon, and I remember that it is all worth the fight.