Pumpkin pies. Ghost stories. Golden leaves. HOCUS POCUS!!!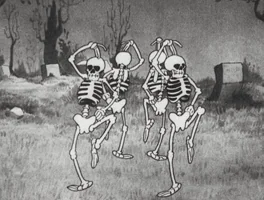 October is absolutely my favorite month (followed closely by December), so today is a day of skeletal, pumpkin-spiced celebration! When I was a child, my little bro and I would go wild with the scary films and candy. We had The Nightmare Before Christmas playing on a loop while we carved pumpkins to decorate the house, hoping to scare the life out of a neighbor. Then, of course, there were the costumes, all made by my Mom – mermaids, witches, werewolves, princesses, and one year I went as a pair of conjoined chickens. Obviously, I was a strange kid.
The themes of Fall – the spookiness, the dying off of all the green, and other aspects – never frightened me. On the contrary, I found the possibilities of magic and wonder more exciting than anything my regular-degular life had to offer in Kansas. To me, a roaming vampire would infuse a little adrenaline into my town. I'll always love October for those reasons, and I hope that never changes.
My mood board in honor of the coolest month is below. Enjoy!
Let's get spoooooooky 🙂