Happy Friday, my friends! If you're living in the US, or happen to been a masochist who likes to follow our news, I'm guessing you're just as in need of some positive diversions as I am. It's good to be involved in the world around you, and I think it's great to allow yourself to get mad as hell – but today I'm championing things that make us feel light. So, in honor of surviving the week, enduring horrendous displays of human indecency (cough*Kavanaugh* cough), and getting through anything that made you want to scream, I've got some music, videos, and articles that helped me get through it all. Enjoy!
The Jezebel Staff Tried CBD Gummies and Made My Life Whole
I stumbled upon this video, released one month ago, when I was angrily scrolling through Jezebel looking for someone who got my rage. They did, but better yet, they also provided a hilarious salve. The staff approached the trial very professionally, which was half the fun of it all, so I couldn't pass up sharing this one. You can watch it [here]
Self-Care Strategies for the Freelancer
Freelancers Union popped up on my Twitter account a few years back and I have been so happy with my choice to follow them. I've recently decided to actively pursue freelancing once again, so their job posts and advice have done wonders for my confidence. This article lists some great suggestions for not only freelancers, but anyone who works in a "creative" field. I'll definitely be applying these tips. You can read them [here]
Plug in a (Bad) Movie
In my humble opinion, there's no better way to spend a Friday night than with a movie, good or bad. Tonight, I've opted for the particularly bad: J-Lo's treasure trove of corny Anaconda. It's one of those movies I will always watch when it comes on TV or if someone wants to see it, because it's so ridiculous that I can't help but forget the world around me. What's better than that?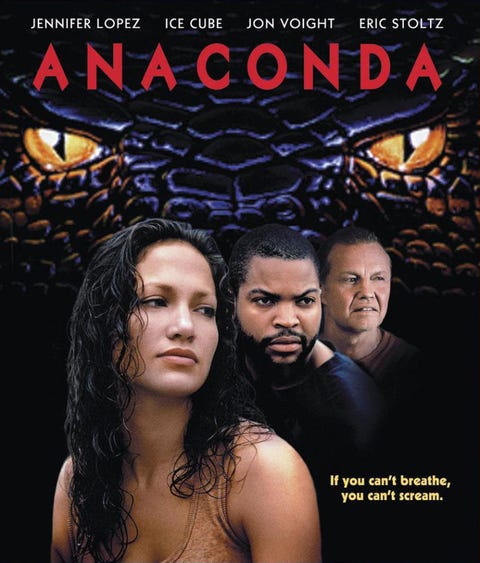 MUUUUUUUUUUSIC!!!!
The salve that has transcended time, my truest love, the one my heart beats for: good tunes. Lately, I've been jamming to the Active Child playlist on Pandora, which led me to these songs that I can't get out of my head! When movies fail, music is always there to inspire tears or twerking, whichever you need. Here are my faves right now:
That's it from me this week, folks! I hope you are inspired to take good care of yourselves and relax over the weekend. Take care!