Every Friday I will feature the books, movies, TV shows, and other works of art that have been inspiring me, or that I'm looking forward to experiencing. Please share your suggestions below!
Let's just clear this up: no one has a cooler Mom than I do. Charlotte (Mrs. Perry if you're nasty) was born to improve lives and laugh, which is what she's been doing since 1964. She's so cool that she doesn't even care if you all know she was born in 1964, because, to her, getting older is a gift. My mother is a rare gem and I am so happy to get the chance to gush over her before her birthday. We have traveled together, grown from hormonal sparring partners into beloved friends, learning wonderful lessons along the way. She never ceases to amaze me in her dedication to her family, her zeal for life and stiff upper lip in troubling times.
Besides travel, my favorite thing to do with my Mom is watching movies! Today I'm going to share our favorite movies to watch together, ones I think perfectly capture the spirit of motherhood, growth, and love.  They're not what you might expect us to watch, so check out the list below for some surprises!
Note: Don't worry Dad, you'll get your shine on Father's Day!
Muriel's Wedding
Mom and I first watched this Australian film starring Toni Collette when Blockbuster was your best option for grabbing a stack of weekend movies. The story revolves around a young Australian woman named Mariel who is positively obsessed with getting married. After stealing money from her father – a local politician – Mariel moves to Sydney with her best friend and changes her name to Muriel for a fresh start. Along the way, she lands a husband, but realizes it's not all it's cracked up to be.
This flick is our favorite one, because I think we both see a little bit of ourselves in Muriel. Neither of us are thieves, nor have we changed our names, but Muriel has this pure fascination with love and romance that Mom and I share. We've both read our fair share of romance novels. Also, the Abba soundtrack is fire!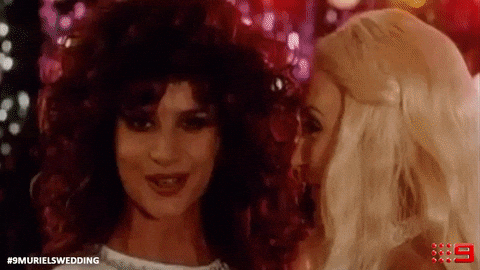 The Dark Crystal
There's something so weirdly lovable about this Jim Henson puppet production that keeps us fawning over the Gelflings and Mystics. The film is a fantasy extravaganza about a Gelfling boy named Jen who must travel across his world to heal the mysterious dark crystal to restore peace and balance to the land. There's no way I could ever write enough to convey how straight up strange this film is, but we love it! Mom always giggles at a particular scene – a flashback – of a baby Jen splashing in a tub.
The journey Jen takes leads him to so many outrageous characters and locales that really suck you into the world, which is why we love this one. Jen's journey is all about strength, love and sacrifice – qualities we try to emulate in our lives.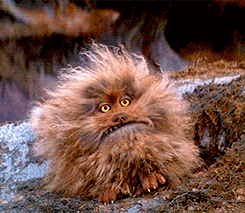 To Wong Foo, Thanks For Everything, Julie Newmar
This is one of the very first movies that Mom and I went to by ourselves, so it will always hold a special place in my heart. Honestly, what's not to love about this film? Not only does it manage to capture the 90's in a perfectly problematic snapshot, but you also get to watch Patrick Swayze, Wesley Snipes and John Leguizamo work it in outfits I could never pull off. The trio play drag queens traveling from NYC to California to compete for the title of Drag Queen of The Year, but get stranded in the middle of the country in a small town that is in desperate need of their magic.
This movie, above all else, is about the bonds of friendship that help us to transform our lives for ourselves. Every character grows to claim ownership of their identities, their lives, and their inherent power; it's a film I always cry over. I'm so thankful my Mom didn't think I was too young to learn lessons from a picture others might have shied away from.
That's it for today, folks! Have you seen these films? Let me know in the comments what movies you love to watch with your mother or mother-figure!