I used to have a seriously sketchy relationship with makeup. I'm talking never wearing it (not a bad thing) unless one of my friends slathered it on me in a shade too light for my skin. I once put blush on so harshly that I looked like Chris Farley after getting hit by a 2×4 in Tommy Boy. Real talk.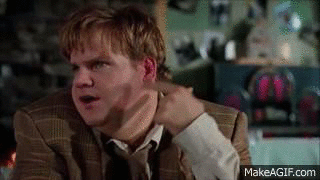 So….. I stayed away from the brushes and palettes.
It wasn't just the struggle of makeup that kept me from doing anything considered really feminine: I didn't think I was pretty enough to be "girly". From the very beginning we're inundated with images of beauty that are light years away from what I see in the mirror; it's all about being tall, thin, white or lighter in complexion and definitely fine-featured. Add on top of that the positively LOVELY tendency of some folks to tell me I look like a guy, and you've got an adorable complex. So, when I did wear makeup, it was to hide or reduce the features that set tongues wagging in ridicule.
It's taken a long time, but I'm unwinding all that programming and replacing it with the knowledge that beauty isn't about what you put on your face or body – it's all about what you radiate from within. I've learned a few things along the path of life that make looking in the mirror a joy rather than a nightmare:
A) The way others see me isn't really about me. They've been shaped by the same beauty standards as I have, and some people will never shake that.  
B) Calling myself ugly isn't just a diss to me, it's a diss to the people I come from, and they surely don't deserve nastiness. 
C) Loving myself is my right. Plus, it gives other people permission to love themselves, especially if they look like me. 
Now, I can look at makeup and beauty routines as fun, rather than necessary to gain someone's approval. Instead of hiding my big nose, I part my hair down the middle to let it shine. I rock my hair free and dreadlocked because it makes me feel like a warrior. I wear lipstick when I nothing else will brighten my day. These days, I love how I look at my most discombobulated just as much as when I get my makeup done professionally, because that's when my strength really shines through.
Yet, even with my mind where it is now, I still look to the media for inspiration when I want a push to glam up, which is where Beautycon comes in! I have not been able to go to the event yet, however reading about the programming has me salivating for the chance to join the masses. Beautycon is something I sorely wish would have been available to me during those ashy foundation days and moments of self-doubt. I love that they've got role-models from all walks of life talking about real-world issues like body image, colorism, representation, and self-love. It's so wonderful to see leaders pushing away from one type of beauty being the standard.
I truly feel the most rebellious thing a person can do in this life is to own and proclaim their own beauty. It's not easy, but I've found it is so rewarding. If you're like me and need to feel inspired to keep going or just want to learn, click here to watch videos from Beautycon! What makes you feel beautiful these days?